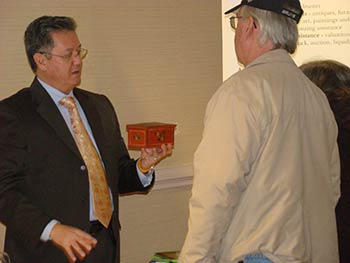 Peter W. Yvanovich, SPA. Founder/ President
Entrepreneur. Peter has Sales & Marketing, Inventory and Appraisal experience spanning over 35 years. He is the Founder of New England Inventory & Appraisal Services. Incorporated in Massachusetts in 2004.
He holds an SPA designation-Senior Professional Appraiser, from the National Association of Professional Appraisers (NAPA) Boston, MA, of which he is the elected President for the association. Peter was a Notary Public for the Commonwealth of Massachusetts. His mission is to help individuals and companies SafeGuard their possessions, businesses and assets, by finding unique solutions. His network of "Best of Breed" Partners and Alliances with Professional expertise help businesses and individuals.
He was educated at a private boarding school in England and moved to the US over 30 years ago.
Peter has valued and appraised for many law firms, insurance companies, banks, lending institutions and individuals. His experience includes items such as; antiques, furniture, art, pottery, glass, collections, household items, sports memorabilia, fine art, paintings, prints, sculpture, comic books, toys, books, clocks, silver, machinery & equipment, china, rugs, toys and ephemera.
Peter also performs "Antiques Appraisal Day events" at independent/assisted/nursing facilities throughout eastern Massachusetts.
Call Pete (978) 807-0589 or email pyvanovich@verizon.net